Featuring our Senior Champion and Hall of Fame American Shetland Pony Stallion
and Sire of mutiple HOF and Congress Champions...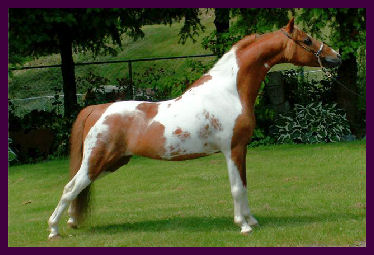 June 10, 2000 ~ Sorrel & White ~ ASPC # 148133A ~ 2000 Classic Stallion
STEP-N-STONE CINNAMON (HOF) (aka -"Cinner"). The first time I saw this exciting stallion I knew he was something special . Cinner is breed to be a champion. He is by Hall of Fame stallion 'Scotch Label 'and out of Step- N -Stone 's beautiful Hall Of Fame mare Sandman's Cody's Cinnamon NTA" it would be hard to go wrong with those parents. He is Foundation certified but was shown as a Classic. Cinner exceeded our expectations!! He has been Champion or Reserve Champion stallion at every show! He has been named Grand champion stallion under 15 Judges! In 2006 Cinner was named ASPC National Area Champion Classic stallion! He's is now a HOF pony! He is a beautiful stallion with fantastic motion and the added bonus of being Homozygous Pinto. Cinner has been producing top quality foals that include multiple halter and futurity winners , multiple HOF and Congress Champions!

Photos

Pedigree

Offspring

Show Record


Breedings Purchased
Photos: Click on small photo to enlarge
Pedigree:
Legend: HOF = Hall of Fame
Sire:

Scotch Label (HOF)

Lester the Jester
Tammy's King Tut
Patton's Miss Linda
Chicago Mis-Lee

Royal Duke of Sebenie

Earth Lee
Dam:
Sandman's Cody Cinnamon NTA (HOF)

Sundance Cody's Sandman NTA
Pierre Cody's Sundance NTA
Pierre Cody's Black Onyx
Sandman's Cody's Betty Boop NTA
Sundance Cody's Sandman NTA
Satan Cody's Dolly NTA
Offspring
Click on photo to enlarge
2006 National All Star Rating-Top 5 Classic Modern Stallion and Classic Senior Halter
2006 Shetland Hall of Fame - Classic Halter
2006 WSPC Cavalcade of Ponies Show, Monroe Unanimous Classic Grand Champion Stallion
2006 Pacific Crown ASPC National Area 8 Grand Champion Classic Stallion
2006 Oregon Gold Champion Stallion and 2 Time Reserve Champion Stallion

Named 2005 Top Ten All Star Pony!

July Spanaway Show - Spanaway, WA

~Reserve Grand Champion Stallion

June Spring Spectacular Show-Walla Walla, WA

~Unanimous Grand Champion Stallion All Ages
~Unanimous Show Supreme Champion Classic Pony

30 Apr-1 May 05 Show -

~ Grand Champion Classic Stallion
~ Champion of Champions Classic Pony

Grand and Reserve Champion Classic Stallion under every judge he has shown under in 2004!

Soundview American Shetland Ponies


Guy & Julie Bickford ~ 13160 Banner Rd. Olalla, WA 98359
Phone: 253-857-3712 Email: svpintos@centurytel.net